Welcome to WeymouthBabeRuthLeague.com!
Be sure to "like" us on Facebook, just search "Weymouth Babe Ruth League!"
WEYMOUTH YOUTH BACKS THE BADGE
Click on this link to register for our charity wiffle ball tournament!!!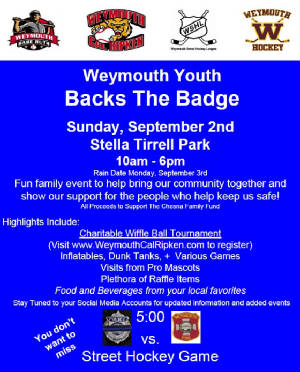 ***2019 TRYOUT INFORMATION***
Tryouts for the 2019 season will be held on Saturday September 8th and Sunday September 9th at 4pm each day at Libby Field on Middle St.
- Players only need to attend one of the two tryout days, not both.
- Players should bring their birth certificates with them to tryouts. They will be reviewed by a board member then returned to you.
- Players already on a Weymouth Babe Ruth roster do not need to try out again.
- NO METAL CLEATS ALLOWED AT LIBBY FIELD. Also, no gum or sunflower seeds.
- Tryouts will consist of the following...
1. A timed run from home plate to second base.
2. Fielding infield ground balls and throwing across the diamond (third to first or first to third).
3. Fielding outfield fly balls and throwing to a cutoff man.
5. Pitching & Catching (both optional).
Have a question? Feel free to hit the "Contact Us" button on the left side to send an email, or call League President Brian Kintz at 781-405-7083.
WBRL/WYB 2019 PARTNERSHIP
Please read the announcement of a new partnership between Weymouth Babe Ruth League & Weymouth Youth Baseball's AAA Division!